Headington Area Guide
Are you thinking about buying or renting a property in Headington? The suburb is located just 2.8 miles from central Oxford, offering residents the ideal mix of  suburban and city living. Headington is known for its central-hub London Road, where you'll find a range of shops, cafes, pubs and restaurants, as well as the local landmark the Headington Shark, a rooftop sculpture on New High Street. So, could Headington be the perfect place for you set up home? Read on to find out.
Are there local transport links nearby?
Headington is well served by local transport links, with a huge choice of bus services running between the suburb and central Oxford. These include:
The No.8 from Barton and No. 9 from Risinghurst
The U1 bus, which runs between Wheatley and Harcourt Hill via Headington and the City Centre.
The 800 Park and Ride service, which picks up and drops off passengers at Headington shops (near Kennett Road for Oxford) and Gipsy Lane (for Oxford Brookes University)
The Oxford Tube and Airport Buses providing regular access to London and surrounding Airports
Headington is also just 3.4 miles from Oxford Station. From here you can travel to Reading in around 26 minutes, Swindon in around 48 minutes and London Paddington in around 55 minutes.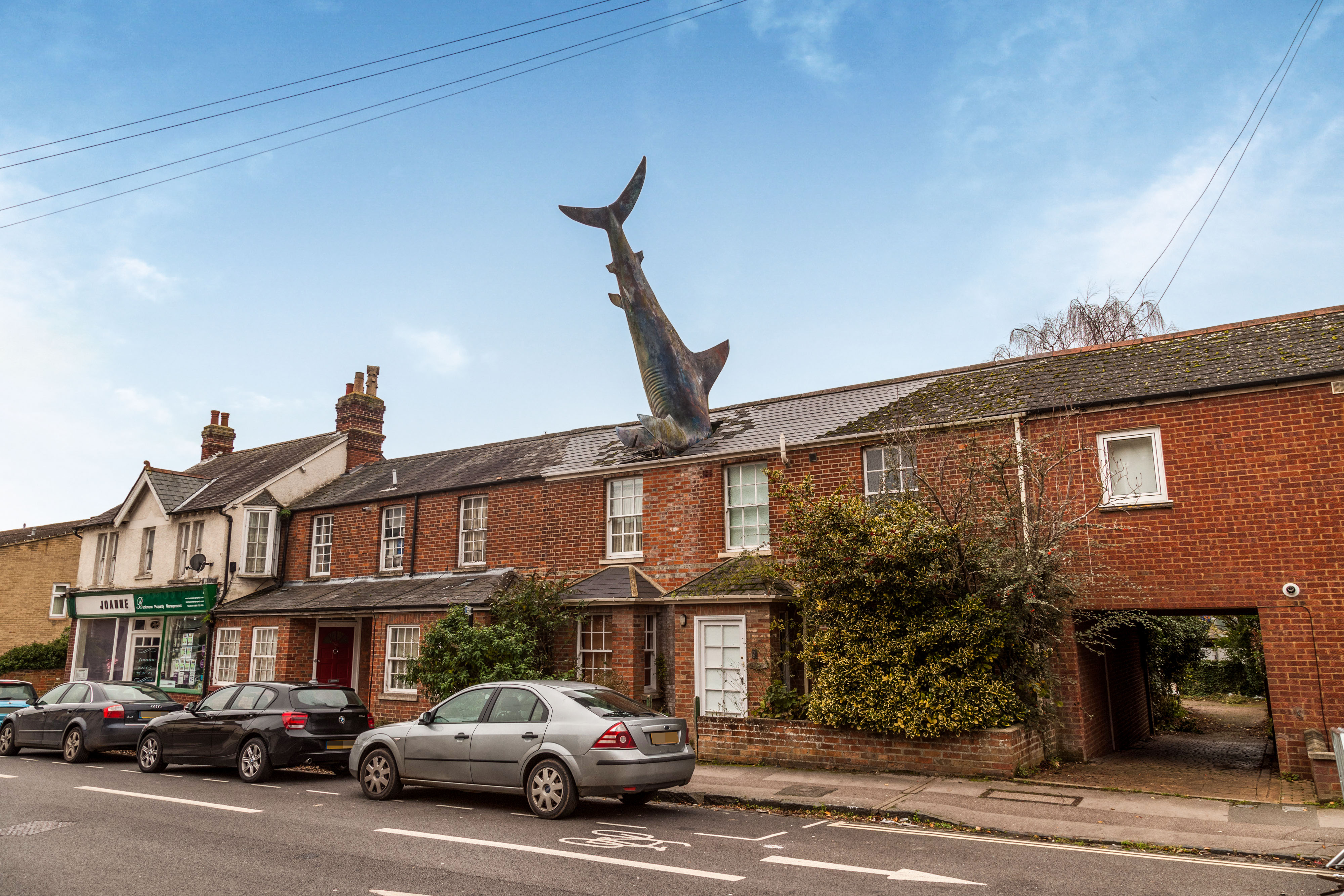 What's the local food and drink scene like?
There is a wide range of restaurants, pubs and cafes to suit all tastes, some of these include La Croissenterie, a French café offering halal meats as well. Jacob and Fields, again a rustic English café offering not only sandwiches but also bigger meals to suit. Alongside the independent cafes you have the high street ones, which in Headington include Starbucks and Caffe Nero.
Should none of these tempt you into venturing out you may find a selection of pubs in Headington. The White Hart for example is a village style pub which is nestled in the heart of Old Headington.
Alternatively, you can head into central Oxford, where you'll find the wide selection of bars and clubs you'd expect from a big city.
How does Headington rate for sport and leisure facilities?
If you live in Headington, there's no excuse not to keep fit. Oxford Brookes Sports centre is only 0.3 miles from the centre of the suburb and offers a gym and sports pitches. There's also The Oxford Golf Club, which has courses to suit a range of abilities.
What can you do on a sunny day?
The Oxfordshire countryside is notoriously beautiful, so if the sun comes out there are plenty of places to enjoy it. There are also a number of open spaces in Headington itself, including Headington Hill and Bury Knowle Park, which has a children's play area.
Just one mile away from central Headington, you'll find Shotover Country Park, which comprises of 289 acres of open space with spectacular views over south Oxford.
What can you do on a rainy day?
If it rains in Headington there's plenty to keep you occupied. Ozone Leisure Park is only 3.8 miles away, and here you'll find a Vue Cinema, Bowlplex, where you can play pool and bowl, and a range of restaurants.
Alternatively you can head into Oxford, where you'll find world-class attractions such as the Pitt Rivers Museum, Bodleian Library and The Ashmolean Museum.
You can also tour some of the historic Oxford University buildings, including Christchurch College, the location of the Great Hall that inspired Hogwarts Hall in the Harry Potter movies. Given that Oxford is the oldest English-speaking University in the world, the colleges are well-worth a visit for any history buff. You can find a list of opening days and times for the university buildings and colleges, here.
What's Headington like for food and retail shopping?
Headington is home to a number of supermarkets, both large and local. These include a Waitrose, Tesco and Sainsburys as well as a store selling Portuguese and Brazilian groceries, and a shop selling Iranian and Persian food.
Residents can also travel 2.8 miles into central Oxford, where there are all of the main high street stores, as well as a wide selection of independent stores and boutiques.
What does Headington offer in terms of entertainment?
If you're a football fan, there's the non-league football team Headington Amateurs F.C., who play at the Barton Recreation Ground.
The theatre at Headington School also hosts local Theatre and Drama companies during school holidays, or you can take part in the weekly quiz at the Britannia Inn.
Once again, residents can head into central Oxford, where there are world-class entertainment venues such as The New Theatre and the 02 Academy.
For the kids, there's Partyman World, an indoor play centre at The Ozone Leisure Park, and Storytime and Rhymetime at Headington Library.
Are there decent local amenities such as libraries and health centres?
The previously mentioned Headington Library offers a wide range of books for children and adults, DVD's, audiobooks and computers with internet access.
There are also a number of doctor's surgeries in the area such as Bury Knowle Health Centre, and a number of dental practices, such as 310 Dental Care. The area is also home to John Radcliffe Hospital, which has an A&E department, Oxford Eye Hospital and the private Nuffield Health the Manor Hospital.
What's the local traffic and parking like?
There are two public car parks in central Headington. These are in Old Highstreet, near Waitrose and in St Leonard's Road, at its junction with Windmill Road.
Due to the proximity of Oxford Brookes University and several hospitals, traffic can become a little congested around peak times.
How well is the area served by primary and secondary Schools?
The residents of Headington have access to a number of popular primary and secondary schools. Primary schools include Sandhills Community Primary School, which is rated as 'Good' by OFSTED, New Marston Primary School and Rye St Antony School, a boarding school for girls aged three to 18.
Secondary schools include Headington School, an all-girls day and boarding school, and Cheney School, which is rated as 'GOOD' by OFSTED.
To find out more about buying or renting a property in Headington, call or visit the local Andrews branch.