Horley Area Guide
Horley is a town in Surrey, which sits on the border between Surrey and West Sussex, just north of Crawley and Gatwick airport.With fast links into London around the clock, Horley is a great commuter town, allowing you to escape the hustle and bustle of the city at the weekend, but with a quick commute to your desk during the week.So, could Horley be the right area for you? Read on to find out more.
Are there local transport links nearby?
Horley's location close to the capital gives residents access to great transport links. It takes around 30 minutes to get from Horley to London by train – making the capital within commutable distance.
It's also not far to the seaside location of Brighton – just less than 30 minutes on the train.
Horley is also served by Metrobus, with routes connecting with Redhill, Three Bridges, Crawley, East Grinstead, Caterham and Gatwick Airport, as well as the outlying villages of Charlwood and Smallfield. Find out more here
Gatwick airport is less than two miles away, giving residents convenient access to locations worldwide.
Looking to Sell or Let your house and need a FREE quick and easy Valuation?
What's the local food and drink scene like?
Whether you fancy going out for drinks or for a romantic meal, Horley has a great selection of restaurants, pubs and bars to choose from.
For restaurants, there's Il Sorriso & Zeno serving Italian Cuisine, The Curry Bengal (Indian) and Blue Lake (Chinese) all of which have been awarded the Trip Advisor Certificate of Excellence 2019. A new addition to the town Shiraz is a Mediterranean/Turkish restaurant offering al fresco dining.
For pubs and bars, there's Ye Olde Six Bells, a country pub that's been in business for over 700 years, The Jack Fairman – plus numerous more.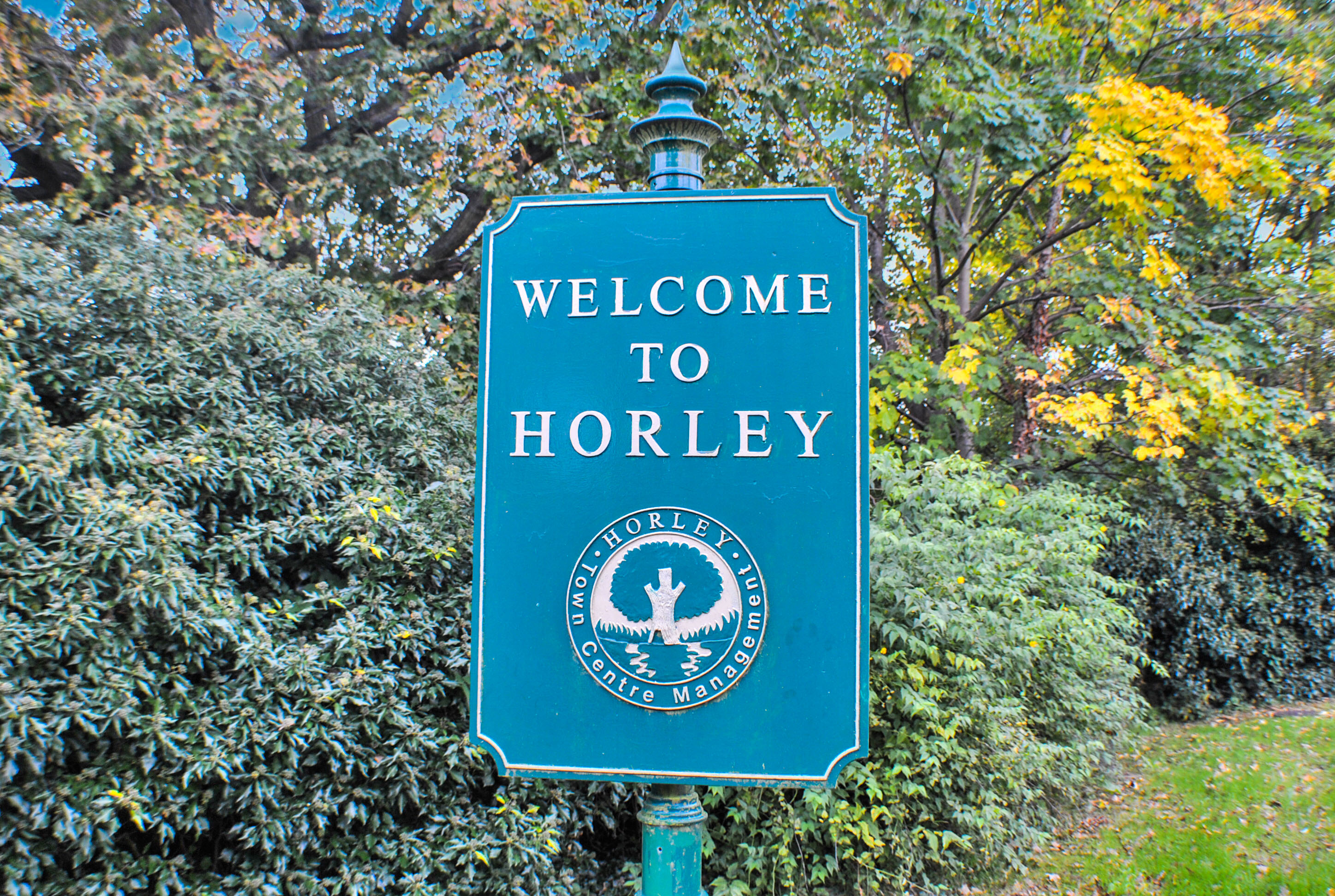 How does Horley rate for sport and leisure facilities?
If you like to keep fit, Horley is a great location. To start with, there's Horley Leisure Centre, a state-of-the-art facility with a 25m swimming pool, gym, fitness classes, badminton and table tennis.
Also in the area, you'll find; Horley Town Football Club, Horley Hockey Club, J.Parks Clay Pigeon Shooting, Silver Ribbons Dance School and Spring Fit Gymnastics and Trampoline Club.
What can you do on a sunny day?
There are also beautiful walks and cycle ways in Langshott Woods and the country side surrounding Horley in the villages of Charlwood and Smallfield. Also the Riverside Garden Park on the outskirts of Horley.
Or, if you're a horse lover, you could try horse riding at Sandra's Riding School.
What can you do on a rainy day?
If it's a rainy day in Horley, you could hit the shops along the high street or you could head into central London, where you'll find world-class attractions such as Madame Tussauds and The London Dungeons.
What's Horley like for food and retail shopping?
When it comes to the weekly food shop, Horley has you covered – there's a Waitrose, Tesco Extra, Sainsbury's Local and My Local.
For retail shopping, Horley is home to many high street chains, such as Boots and M & Co, as well as plenty of independent stores, like the department store Collingwood Batchelor.
Plus, just over five miles away in Crawley, there's the County Mall Shopping Centre featuring a huge range of big brands.
What does Horley offer in terms of entertainment?
One of the most popular venues in Horley is the Archway Theatre, an amateur-run theatre, presenting ten full productions each year, as well as a number of youth productions.
There's also a Cineworld, and Crawley Leisure Complex just over five miles away in Crawley.
Are there decent local amenities such as libraries and health centres?
Horley has all the local amenities you'd expect from a town of its size. There's Horley library in the centre of town, offering books, audiobooks, CDs, DVDs, computer access and more.
There are also several doctors' surgeries in the area, such as Birchwood Medical practice.
What's the local traffic and parking like?
There are several car parks in the centre of Horley – you can find out more here.
In terms of traffic, this can get congested at peak times, but considering the town's proximity to Gatwick airport, traffic is relatively good.
How well is the area served by primary and secondary schools?
If you have children, you'll be pleased to know that there's a good range of schools in Horley.
For infant and primary schools, there's Horley Infant School, rated as 'Good' by OFSTED, Yattendon School, also rated as 'Good' by OFSTED.
The Aurora Redehall School which supports children aged 6-19 years with communication difficulties typically associated with Asperger's Syndrome and Autism and rated as 'Good' by OFSTEAD.
For older children, there's Oakwood Secondary School, rated as 'Good' by OFSTED.
There is currently no sixth form in Horley, but most students go to Redhill, Crawley or Reigate to continue their studies.
What are people saying about us?