Charlton Kings Area Guide
Are you looking to buy or rent a property in the Charlton Kings area? This charming suburb of Cheltenham has a lot to offer its residents. Situated in the heart of the Cotswolds, the area is home to the picturesque Lineover woods; Charlton Kings Common and Leckhampton Hill, which are all considered areas of outstanding natural beauty. So, could Charlton Kings be the perfect place for you to set up home? Read on to find out.
Are there local transport links nearby?
You can catch regular buses from Charlton Kings to the centre of Cheltenham. The area also has to access to main roads, which run to London and Oxford (A40), Bath (A46) and Cirencester (A417).
Looking to Sell or Let your house and need a FREE quick and easy Valuation?
What's the local food and drink scene like?
In the Charlton Kings area, there are a number of restaurants. The Royal on Horsefair Street serves food, features a 'cosy, modern bar' and hosts live music. The Langton, on London Road, offers a country pub style menu and is set in an ornate Georgian building.
Cheltenham city centre is approximately 2.3 miles away from Charlton Kings. Here you can find many more eateries serving cuisines from around the world.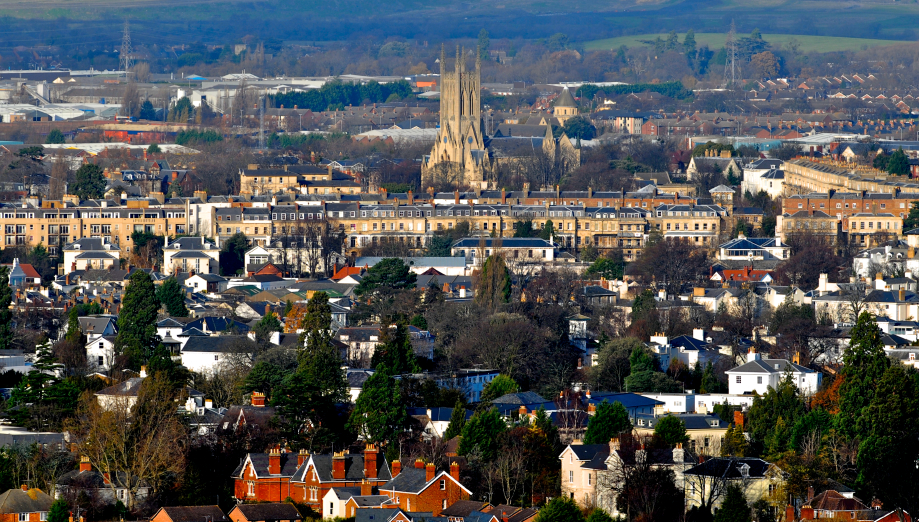 How does the area rate for sport and leisure facilities?
There are a number of sports and leisure facilities in the Charlton Kings area; Aqua Zone Swim School is based at St Edward's School on Cirencester Road, Charlton Kings, and offers swimming lessons to all age groups. There are also a number of golf courses in the surrounding areas, including Lilley Brook Golf Club on Cirencester Road, Cotswold Hills Golf Club in nearby Ullenwood and Star Golf, which is also situated in Ullenwood.
What can you do on a sunny day?
On a sunny day in Charlton Kings, you can visit one of the many parks in the surrounding areas. Cheltenham is often referred to as 'a town within a park,' so there are many green spaces to enjoy.
A big attraction in the Sandford Parks Lido, just 1.6 miles from Charlton Kings, which has a 50m outdoor pool, children's pool, paddling pool and slides.
You can also take a trip to the fishing spots in Pittville Park, which is 2.8 miles from the centre of Charlton Kings.
What can you do on a rainy day?
For theatre goers, there's the Playhouse Theatre in Cheltenham, which is described as an 'intimate community theatre'. Alternatively, there's the Everyman Theatre, on Regent Street, Cheltenham, which hosts musicals, pantomimes and traditional plays.
Film fans are also catered for, as there is a Cineworld cinema, located in central Cheltenham.
What's Charlton Kings like for food and retail shopping?
The London Road has a range of independent shops for you to browse in. Here you will find gift shops, antique dealers and many other specialist stores. In central Cheltenham, there is Regent Arcade, which is home to many high street chains, and of course the most recent addition, John Lewis and Partners.
For groceries, there is the Natural Grocery Store on Bath Road, Cheltenham, and a Sainsbury's on Cheltenham's Priors Road. The Natural Grocery Store is 2.2 miles away from the centre of Charlton Kings, and Sainsbury's Priors Road store is also around 2.2 miles away.
What does Charlton Kings offer in terms of entertainment?
Charlton Kings hosts its own annual summer fete and craft fair. Here you can see many homemade crafts stalls, and there's also a children's fairground and activities program.
Are there decent local amenities such as libraries and health centres?
The Sixways Clinic on London Road is Charlton Kings' local health centre. There's also one local library. Here you can borrow books, as well as gain access to computers and genealogy websites.
What's the traffic and parking like in Charlton Kings?
There are many pay and display car parks in the centre of Cheltenham and time restricted parking in Carlton Kings, along with on-street parking.
Charlton Kings has a main road to London and Bath, so at times the area may get quite busy in terms of traffic.
How well is the area served by primary and secondary schools?
There are a variety of primary schools in the area, including Charlton Kings Junior School, and Charlton Kings Infant School, rated as 'Outstanding' by Ofsted and Glenfall Community Primary School, rated as 'Good' in its latest Ofsted inspection.
Secondary schools include Balcarras School, rated as 'Outstanding' in a recent Ofsted inspection. Cheltenham also hosts the independent St Edwards, and Cheltenham College, which have been educating young people since 1841, and Bettridge school, a specialist school.
To find out more about buying or renting properties the Charlton Kings area, call or visit the local Andrews branch.
What are people saying about us?