Tewkesbury Area Guide
Are you thinking of buying a property in Tewkesbury? The riverside town is located just 1.9 miles from the M5, but still manages to feel somewhat like a medieval homecoming. Charming Tewkesbury is in the North of Gloucester bordering the county of Worcestershire. With many buildings dating back to the 1600's, two rivers on the doorstep and cobbled streets, Tewkesbury's unique Olde Englande appeal is undeniable. Often overlooked as a gem of medieval history, with its quiet streets and bordering rivers it's easy to forget that Tewkesbury is only 11.2 miles from Gloucester and 9.2 miles from Cheltenham, two bustling cities offering everything one could ever want or need.
What's available in terms of transport links?
Tewkesbury is located 1.9 miles away from the M5. The nearest railway station is in Ashchurch only 2 miles from the town centre and the town is well served with regular buses from Gloucester and Cheltenham. Stagecoach number 71 service runs from Gloucester bus station to Tewkesbury city centre 45 minutes past the hour, and takes half an hour. To get to Cheltenham use the 41 and 42 service, which run every half an hour from The Crescent and takes half an hour to get to Cheltenham.
Looking to Sell or Let your house and need a FREE quick and easy Valuation?
What's the local food and drink scene like?
Being such an old town, you will be spoiled for choice by the array of 16th century buildings now converted into pubs but still maintaining their rustic charm. Tudor House Hotel is a 16th century building with an incredible story. The door into the secret garden still has the axe marks from when soldiers tried to break in during the civil war, it doesn't get much more authentic than that. My Great Grandfather's, located on Church Street, offers a fine dining option and is extremely popular with locals and tourists alike.
For something a little more modern, Gloucester and Cheltenham both have a wide range of dining options including a Jamie's Italian, Chiquito's and The Slug and Lettuce.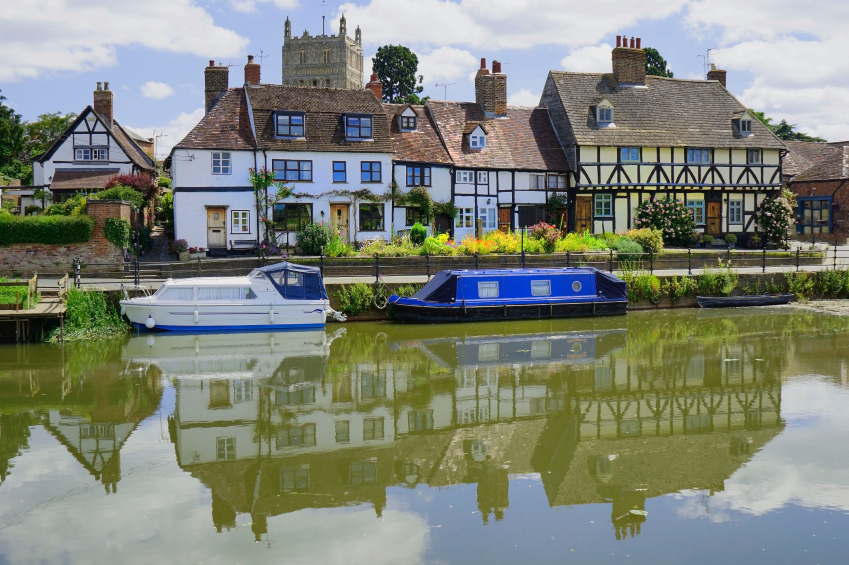 How does Tewkesbury rate for sport and leisure facilities?
Tewkesbury Leisure Centre is A state of the art leisure facility, offering a gym, sports hall, swimming pool, squash courts, classes, swim lessons, indoor climbing wall, indoor bowls and much more as well as a number of independently owned fitness clubs doted throughout the town. If team sports are your preference there is Tewkesbury Rugby Club, the cricket ground near the abbey as well as Tewkesbury Town FC to include Tewkesbury Colts for the juniors Given Tewkesbury's flat landscape it is the perfect place to join a running club such as the Tewkesbury Running Club.
What to do on a rainy day
What with Tewkesbury being such an old town that has managed to retain lots of its medieval heritage, you can obviously expect the museums to be rich with history. The John Moore Museum is located among a row of 15th century cottages and offers a huge range of exhibits such as the merchants house, a house restored to show living conditions of the past, a secret garden with a pond and to top it off, Shakespeare's sisters are buried in the courtyard!
When you're done marvelling at the John Moore museum then head over to Tewkesbury museum for an eclectic collection of exhibits that will give you a whole new appreciation for the history of the town.
What to do on a sunny day
Take the stairs up Tewkesbury Abbey and soak in the view over the town. The medieval layout and surroundings are never more obvious than from above, you can also see just how close the two rivers are. The Abbey is a wonderful building, and is actually the biggest Norman church in existence at 14 metres square and 45 metres high.
What's it like for food and retail shopping?
There are a whole host of supermarket options in and around Tewkesbury. For your big weekly shop, there's an ALDI located on Gloucester Road, a Morrison's on Ashchurch road and a Sainsbury's a 10.5 miles out towards Cheltenham. For your "I forgot the milk" pop in on the way home shop, there is a Tesco Metro on Bishops Walk and a CostCutter on Queens Road. The high street is served by many independent shops as well as bigger high street retailers giving a nice range of options.
What is there in terms of entertainment?
Every summer in July Tewkesbury hosts the biggest free medieval festival in the whole of Europe. It was inspired by the Battle of Tewkesbury, the final battle in the War of the Roses between the houses of York and Lancaster. This annual event includes a re-enactment of the infamous battle, a traditional medieval market, activities for kids, beer and ale tent and many more. Enjoy some medieval entertainment and food at this extremely unique event!
The local theatre is called The Roses and offers a range of different events throughout the year, including Nappy Monday, a Monday evening cinema screening that allows parents of young babies the chance to see blockbuster screenings in a supportive and carefree space.
What is there amenities wise?
Victoria Pleasure Gardens offer pretty river side English Gardens that are well maintained, scattered with flower beds frequently adorned with red and white roses- the perfect place for a picnic or lunch break.
There is Tewksbury House Dental Practice for all your dental needs, and there are several doctors' surgeries in the area. The new devereux Centre is a hub for anything medical, including doctors surgeries, minor injuries and a pharmacy.
What's the local traffic and parking like?
Tewkesbury is served by several car parks, the cheapest of which is Back Lane car and coach park which has 98 spaces and 1 disabled bay and costs £1 for the whole day. Other car parks typically charge £1 for up to one hour, £2 for up to 3 hours and £4 for over 3 hours and typically have between 40-90 spaces.
Is the area well served by primary and secondary schools?
Tewkesbury C of E Primary School is rated OFSTED 'good', as was Tirlebrook, Mitton Manor and John Moore. In terms of secondary schools Tewkesbury School is rated as 'good' and has it's own sports centre which include a swimming pool, tennis courts and gymnasium.
What are people saying about us?