Gloucester Area Guide
Are you thinking about buying or renting a property in Gloucester? The area has plenty to offer residents of all ages, and combines a historic past with all the attractions and amenities of a modern city.Roman foundations and Victorian docklands mix with trendy bars and high-street shops, and the skyline is dominated by the famous Gloucester Cathedral.So, could Gloucester be the perfect area for you? Read on to find out more about this desirable city.
Are there local transport links nearby?
Gloucester is well-served by transport links. Gloucester railway station provides regular trains to all the major UK cities, including London, Reading, Bristol, Cardiff, Nottingham and Birmingham.
There is also a regular bus service throughout the city, and coach services to Heathrow and Gatwick airports.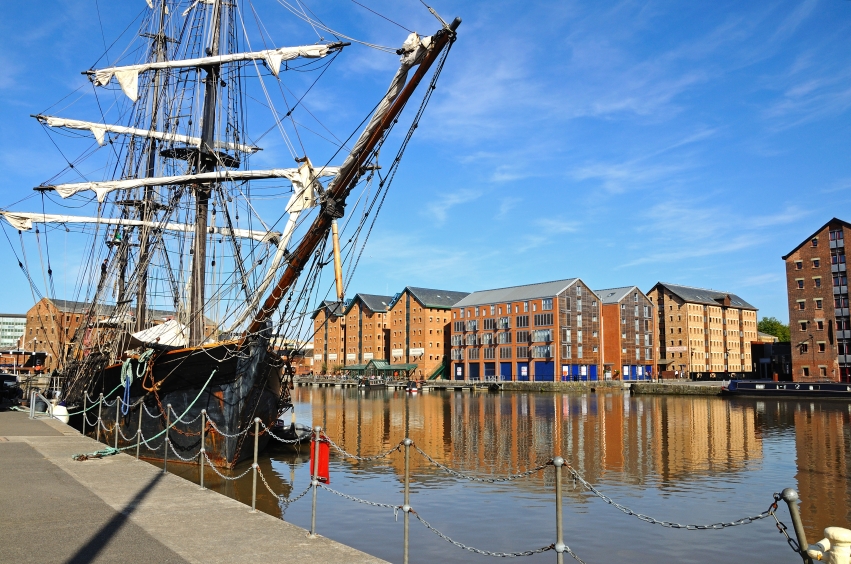 Looking to Sell or Let your house and need a FREE quick and easy Valuation?
What's the local food and drink scene like?
If you're looking to dine out, Gloucester has plenty of quality restaurants to choose from. The city's eateries cater for global tastes, with the best of English, Chinese, Greek, Mexican, Thai and Indian cuisine.
Notable restaurants include The Tiger's Eye, which serves contemporary Pan-Asian Cuisine, The Wharf House riverside restaurant, which serves modern British and European cuisine, Indian Memories, and Toast, the country's first toast bar.
If you head to Gloucester Quays, you'll find a waterside restaurant quarter overlooking the historical Gloucester docks. The Quays offers a number of the big restaurant chains, including Nandos, Pizza Express and Zizzi.
You also won't be disappointed when it comes to the evening drinks scene. Most of the city's bars and clubs are located in the Eastgate Street area, making it easy to move from one to the next.
How does Gloucester rate for sport and leisure facilities?
Residents of Gloucester are well-served by sports and leisure facilities. Just to the east of the city centre, you'll find the GL1 Leisure Centre which has a well-equipped gym, toning suite, four swimming pools, spa and more.
The city is also home to a variety of sports clubs, including Gloucester City Swimming Club, five-a-side, American football, boxing and rowing.
What can you do on a sunny day?
If the sun is shining in Gloucester, there's plenty to do. Residents can choose from a wide variety of parks, including Robinswood Hill Country Park, featuring 250 acres of open countryside with viewpoints, pleasant walks and nature trails, along with Coney Hill Park, Glevum Way Park and more.
There's also The Bird and Deer Park, Prinknash, which offers families a range of attractions including animals, birds and beautiful scenery.
If you like your entertainment a little more action-packed, there's the Gloucester Ski and Snowboard Centre, which has a 230 metre main slope, 40 metre nursery slope, fun park and ski hire.
What can you do on a rainy day?
Alternatively, if the heavens open, there's still plenty to keep you entertained. Centrally located is the Gloucester City Museum and Art Gallery, which includes a complete redisplay of the ground floor with a Roman kitchen playhouse and medieval street.
You'll also find the Tailor of Gloucester House, a museum dedicated to once-Gloucester resident Beatrix Potter, and Nature in Art Gallery and Museum, which is just two miles from the city itself.
What's Gloucester like for food and retail shopping?
Whether you're in search of high-street stores or independent boutiques, Gloucester has something for you. The main shopping area in the city fans out from The Cross, where the streets of Northgate, Eastgate, Southgate and Westgate meet. Here you'll find a mixture of well-known brands and independent traders.
Alternatively, the Westgate Quarter on Westgate Street is home to a growing number of independent shops, cafes and delicatessens. You'll also find lots of attractive boutiques at College Court and on College Street.
For stalls ranging from traditional Gloucester sausages to haberdashery, head to the indoor Eastgate Market, which is part of the Eastgate Shopping Centre.
If you're after a bargain, the outlet centre, Gloucester Quays, is the go-to destination.
What does Gloucester offer in terms of entertainment?
When it comes to entertainment, Gloucester offers everything you might expect from a buzzing city. The summer months bring the Three Choirs Festival, one of the world's oldest classical music festivals, which has been held annually since the early eighteenth century.
Alternatively, there's the Popcorn Festival, which is held over a month during the summer at Gloucester Quays and features arts, crafts and activities.
For cinema fans, there are a number of venues, with a Cineworld at Gloucester Quays and a 100-seat cinema at Guildhall set in the grandeur of an old council chamber. The Guildhall also hosts live music, comedy, theatre, exhibitions and talks.
Are there decent local amenities such as libraries and health centres?
As a thriving city, Gloucester is well-serviced by local amenities. Gloucester Library is located centrally and provides services such as a Local and Family History Centre, Baby Bounce and Rhyme, and an internet café.
There's also a wide range of GPs and healthcare centres, including Gloucester City Health Centre.
What's the local traffic and parking like?
There are 15 pay and display car parks run by Gloucester City Council, including three multi-storey car parks, which provide roughly 2,275 parking spaces across the city.
Parking is free in the central Eastgate car park and Kings Walk car park after 5pm – handy if you need to quickly pop to the shops before they close. It's also free to park in all council-run car parks from 6pm.
How well is the area served by primary and secondary schools?
Gloucester offers residents a varied choice of schools. Primary schools include St Mary's Catholic Primary School, Highnam Church of England Primary School and Robinswood Primary School.
Secondary schools include; Sir Thomas Rich's School, a grammar school which achieved 'Outstanding' in its Ofsted inspection, Gloucester High School for Girls, St Peter's R.C High School and Sixth Form Centre and The Crypt School, a selective boy's school with a co-educational sixth form.
To find out more about buying or renting a property in Gloucester, call or visit the local Andrews branch.
What are people saying about us?